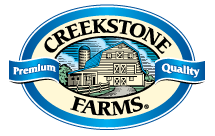 We've looked far and wide for a great tasting/tender ALL-NATURAL steak. We receive a lot of requests for an 'organic' or 'all-natural' steak. Customers settle for grass-fed but are often disappointed with the taste and tender. Beef sold as Grass-fed only designates the diet of the animal, it does not speak to whether the beef has added antibiotics, hormones, etc. (see below) Creekstone Farms All-Natural 100% Angus Steak Program is the perfect fit. This is the healthiest steak in Trinidad.
•        No Antibiotics – EVER!
•        No Added Hormones – EVER!
•        No Growth Promoting Drugs – EVER!
•        No Artificial Ingredients – EVER!
•        100% Vegetarian Diet
•        Sourced Verified to Ranch of Birth
•        Humane Animal Handling Practices
100% Bloodline Angus – (Normal "Certified Angus Beef" only requires 51% of the genetics of the cattle to be Angus)
•        Cattle sourced from Creekstone Farms Black Angus genetics and verifiable Black Angus genetics documented through the rancher partners
•        USDA Certification – Requires more stringent supervision and testing than non-certified programs.
•        Proprietary Black Angus genetics, some of the best in the industry, serve as the benchmark of quality. Most Certified Angus Beef is only 51% "Angus".
•        The humane treatment of our cattle helps to produce superior quality beef
Available now at Blooms Diego Martin!
Are you searching for Grass-Fed Beef?
We get a lot of requests for grass-fed beef. When we ask customers why they are interested in grass-fed, most explain that they've just read it's better for you. The internet usually points to grass-fed as a more 'all natural' alternative.
If you want an 'all natural' steak, the focus should be placed on what DOESN'T go into the production of that animal, instead of what does. Cattle is designated as grass-fed when a certain percentage of their diet comes from grass or germinated seed. It does not specify that animal was reared without the use of antibiotic or growth hormones. It's a very common misconception that grass-fed automatically means 'all natural'. In addition, grass-fed beef is often sourced from countries which may/may not have the same standards and reporting guidelines as those in the developed world.
The other concern we often find with grass-fed beef is that it doesn't provide the marbling needed for a great steak. They have a saying in the restaurant industry:
"You only sell a grass-fed steak once"
Often, because of the diet and genetic breed of cattle raised as grass-fed, the meat lacks the marbling and interlacing fat which melts when cooking. Without these fats, steaks come off the grill tough. Few grass-fed programs grade out higher than US Select. Yes, because of this grass-fed beef is often leaner, which makes cuts like clod, rump and chuck better. We carry Uruguay Beef Clod which is grass fed and lean. These cuts are often slow or pressure cooked.
Grass-fed steaks also has a much different taste profile and odor than traditional corn/grain fed beef. Grass-fed steaks we've carried in the past were often returned for this odor.
Customer eat steak to enjoy it. To us, it doesn't make sense to buy something that is perceived to be healthier and not enjoy what you are eating.