Diego Martin store
349 Diego Martin Main Road, Diego Martin, Trinidad and Tobago
Monday – Friday: 9:00 am – 6:00 pm
Saturday: 9:00 am – 5:00 pm
Sunday: 9:00 am – 1:00 pm
DIRECTIONS TO OUR DIEGO MARTIN STORE
DIEGO MARTIN MAIN ROAD
Head into Diego Martin from the highway.
You will pass Starlite Shopping Plaza on your left (Hi-Lo). The road will split at a giant tree. This is the 'big tree' in Diego Martin. You will go to the left, which is Diego Martin Main Road. Our store is 100 yards from this tree. We are on the right hand side of the road, next door to FCB bank. We are the second building on your right. You are welcome to park in front. More parking is always available behind the building on the side street.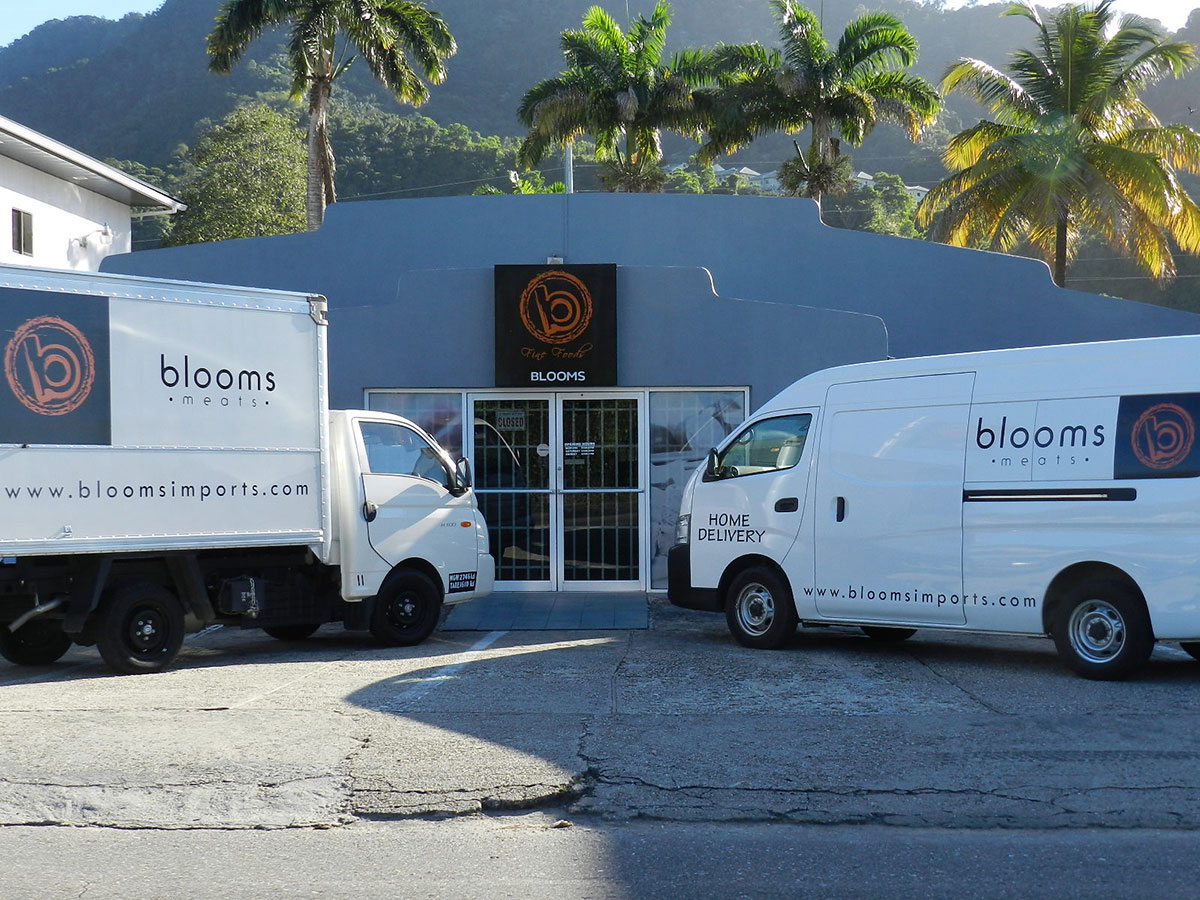 Maraval store
143-B, Long Circular Road, Maraval.
Monday – Friday: 9:00 am – 5:00 pm
Saturday: 9:00 am – 4:00 pm
Sunday: 9:00 am – 1:00 pm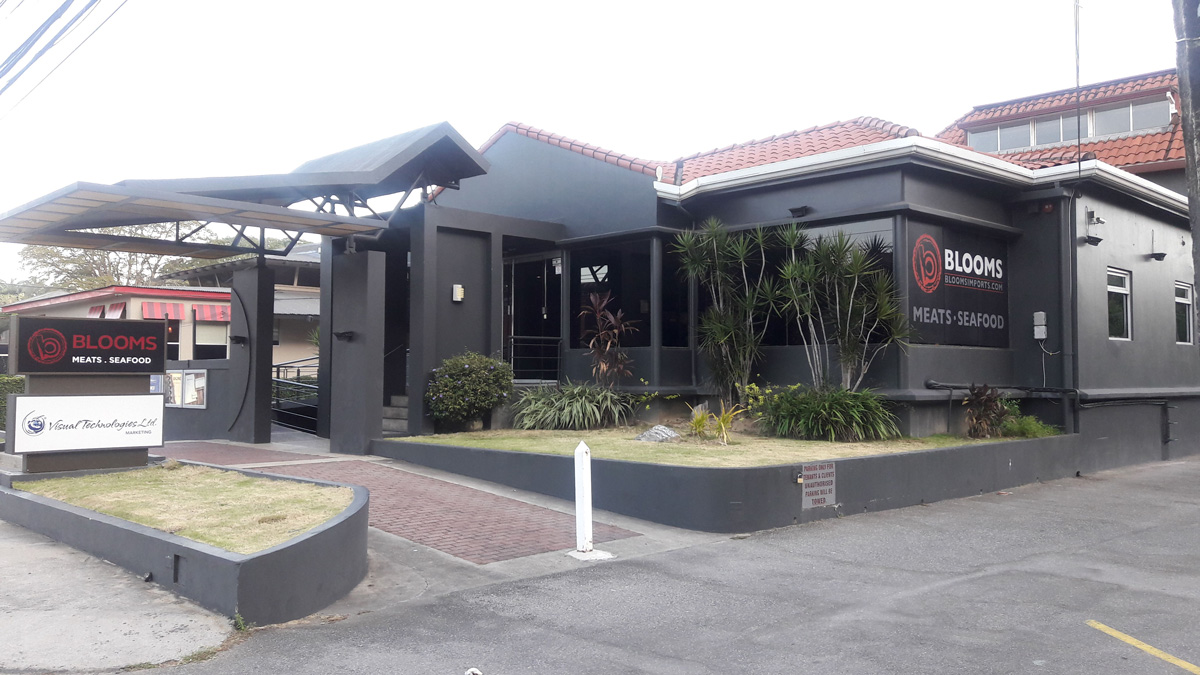 FACEBOOK

First off, make sure you have liked us on Facebook. That's the best way to find out about limited time specials and promotions.

CONTACT
Phone (Diego Martin Branch): 868-633-5771
Phone (Maraval Branch): 868-225-6223
You can always reach us via email: sales@bloomsimports.com
If you would like to call us with questions on the products or ordering process, give us a shout:
Jason – jason@bloomsimports.com
Raul – 764-7917
If you would like to place an order, please click on the items you are interested in and order via the site.
Frequently Asked Questions
Please read our FAQ before sending us a message.
Bloom's Imports was started by Raul Fabres and Jason Francis in September 2007. Both love to grill and realized a need for high-quality/affordable meats and steaks in Trinidad and Tobago. Raul grew up in Trinidad and began importing vegetables more than 25 years ago. Jason grew up working in his parent's restaurant and learned a lot from his grandfather who was a USDA meat inspector for over 30 years.
We pride our company on service. Our goal is providing the highest quality foods available for a price that families can afford. Bloom's started with one case of Beef Tenderloins and is growing everyday, so we really appreciate the support and loyalty from our customers, friends and family. So thanks!
We operate an online storefront, as well as a 'brick and mortar' store in Diego Martin. Our store has all of the items that you will find on this site. However, there are Items in our store that you may not find on the site. Plus, sometimes we run specials on fresh products in store. So please, if you get a chance, come visit us in Diego Martin.
In terms of the items on this website, we do our best to make sure to describe the items fully and answer any and all questions you have. If you have a question about a particular cut or packaging, please do not hesitate to shoot us an email or give us a call.
The easiest way to shop our items is to come into our store. Sometimes, 'specials' run at the store on limited time only items. These items will go fast, so we do not post them online. Visiting the store, you can see the items and select the exact pack that you want.
We also offer the convenience of online shopping for in-store pick-up. You can select your items online, order via our site and come into the store to pick up your order. We will have your order sorted and ready to go.
Unfortunately, we no longer offer a delivery service. We maintained a delivery service for our customers since the beginning of our company. However, due to a sharp increase in demand for products and traffic limitations,Home Delivery has been temporarily suspended. We are working on a solution to this and will hopefully soon be able to deliver again, but until future notice, we can only offer pick-up and browse shopping.
Our website lists all of our current items that are available, so you can order right from the site. If you do not see your favorite item on our site, it probably means we are sold out of that item. Sold Out items are usually replenished in the next container. So, the best thing to do is to keep checking back to see when the items arrives.
When you are ready to order your items, you simply add your items to your cart and click the small shopping cart when you are ready to 'Checkout'. If you feel more comfortable talking with a real person, please feel free to give us a call at 633-5771 and we will be happy to help you place your order. You will be contacted by a member of our staff who will arrange your order and give you a total.
Some of our items are a standard weight. (ex. 8oz Striploin steaks are exactly 8 ounces, therefore it's pretty simple) Some items, however, are cuts of meat that vary slightly in weight. These items will need to be weighted prior to delivery. Once your entire order is selected, weighted and ready for delivery, we will call you with the total. Because of this, you will receive your total when the ENTIRE order has been selected and weighted. This way, we make sure you know the EXACT total.
We have a very special e-commerce cart system that has been specially designed for BloomsImports.com. This allows us to receive your order without you having to pay for it first. The reason the total is $0 is because we must weight your items before we call you with the total.
We import most of our meats from US suppliers. They have all been inspected and approved by the U.S. Department of Agriculture. Most of our beef, pork, lamb, chicken and sausages are purchased fresh in the US and only frozen to ship them down to Trinidad, where we keep them frozen until you purchase. Lamb products will normally be products of Australia and New Zealand, unless otherwise noted. We also now buy some meats and seafood from local suppliers. We buy from only the best and maintain quality as our #1 priority.
Please feel free to send us suggestions for items you would like to see offered. A good portion of our product selection comes from suggestions from customers. We spend a lot of time looking for quality items at great prices that fit the Trinidad lifestyle, so we would love to hear your suggestion. jason@bloomsimports.com
We have managed to grow as a business because we sell most of our meats at wholesale prices, which is why so many customers choose to purchase from us. Many caterers and restaurants shop at our store because the prices are better than ordering from other suppliers.
If you are a commercial client and buying to resell or produce an end product, we may be able to work with you on a wholesale pricing structure. We supply products to many distributors, restaurants, hotels and caterers. We allow these customers to special order their products if the amounts they need are in excess of our normal stock. We are not a large company, so it is unlikely we carry any one items in large volumes. That being said, if we know exactly what you are looking for and how much you use per week, we can usually get it to you cheaper and guarantee you stock in that item.  Some conditions apply, so please email us with any questions. jason@bloomsimports.com