Chef Ruben, owner/executive chef at Melange Restaurant on Ariapita Avenue, Port of Spain took some time to show us how to cook a very simple, but very delicious Geera Pork using our Pork Pieces.
Melange Restaurant is located at #40 Ariapita Avenue, Woodbrook, Port of Spain. Right on the Avenue! They offer amazing dinners in an beautiful atmosphere. They also do quite a bit of catering. Chef Ruben does amazing things with a lot of local dishes, as well as international. Melange offers a wide range of catering items for any type of event you are hosting whether corporate catering or personal. For information on catering options or to book a dinner reservation, please email: melangett@hotmail.com or call: 628-8687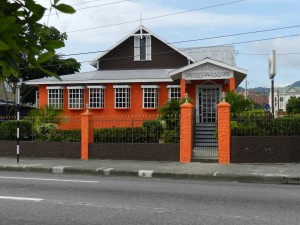 Ingredients Used: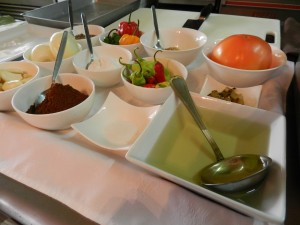 Blooms Imports Pork Pieces Veg Oil, Salt, Geera (Cumin), Garlic, Trini Pimento Peppers, Coc0nut Powder, Onion, Tomato, Scotch Bonnet (Habanaro), Black Pepper.
Basic Instructions:
Season the Pork using the above ingredients. Chop necessary vegetables to help season. Drizzle with Vegetable Oil and mix. Place in an oven pan and add a little bit of stock or water. Cover with foil and bake at 300 for 20 to 30 minutes. Check the pork to see if it's done. Do not over cook.
Chop onions, pimentos, garlic, tomato, hot pepper. Heat in pan with butter. Add back drippings from pork and then pour over pork in bowl.
The same mix / seasoning can be used to make Geera Baby Back Ribs. Simply rub down the baby backs with the Geera seasoning (same seasoning as with the Pork Pieces) put the Baby Back racks onto a baking pan and place in the oven @ 300 degrees for 2 to 3 hours. Checking often.