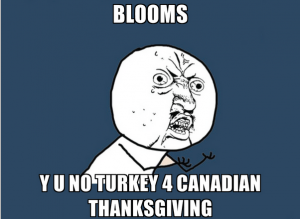 Every year we have customers ask us for Turkey for the Canadian Thanksgiving Holiday (Oct 14th, 2014). We never have them. Why is that?
Well, we don't really like Canadians…..just kidding.
The real answer is because we import most of our products from the US. Unfortunately, turkey farmers in the US don't really have their birds ready early enough for us to order them. For us to have our turkeys in stock for the beginning of November (in time for the US version of the Holiday), we often have to place an order in the beginning of October (pre-order here). They are processed and then shipped down to Trinidad. If we needed turkeys in the middle of October, we would need to book those turkeys at the end of August! We are very willing to do that, but the turkey farmers aren't ready for us at that time. So, we are working on getting a Turkey supplier (possibly) out of The Great White North, that will have product ready for us to order for delivery in the beginning of October. Unfortunately, that won't be until next year. 🙁
So, hopefully that helps explain why we never have our turkeys in time for the Canadian Thanksgiving.
Regardless of our issues, we hope all you Canadians have a very happy Thanksgiving!