We have some big news. But, before we give you that news, I want to take a minute to explain how Blooms Imports started and how we ended up where we are at now. It's been a very interesting/stressful/exciting but overall GREAT few years and we are happy to be here.
When you have no money and you start a business it's fairly difficult. You have to decide what you need, what you don't need and what you have to make work for the time being. If you could buy whatever you thought you needed, it would be much easier. But knowing what I know now, that is not always the best way. We had very little money to start Blooms, so we had to make do with what we had. Our 'store' consisted of a chest freezer in our carport. Our products (well actually our one product) consisted of a case of Choice/Certified Angus Beef US Tenderloin Bars.  That was it. We use to joke that if a bandit came to the house and popped the lock on the freezer that our entire business would be shutdown.
Soon after, BloomsImports.com went live and people could visit the site to see our one item for sale. It wasn't a pretty website, but it did the trick. More importantly, it allowed us to take suggestions as to what other items we should carry. So, slowly we started adding items that people were looking for, higher quality meats and products that no one in Trinidad carried. There still seems to be a predicament for consumers here in Trinidad that I've seen over and over again with the retailers I work with. "We don't carry nicer/new items because all customers want is the regular/cheap products we carry now". Sometimes, the reason customers don't buy nicer meats is because THE STORES AREN'T SELLING THEM.
The hardest thing about the way Blooms operated in those days was the deliveries. We didn't offer pick-ups, so everything had to be delivered. Orders would come in via the site, we would run to the public cold storage to pick them up, weigh the items and then hope the customer was able to accept the delivery. Most of the time we had to drive the item BACK to the cold storage facility and re-check them back in until the customer was ready. It was a completely and udder nightmare. We operated this way for years…somehow. Slowly we managed to add on small restaurants as customers as we were able to get them what they needed, when they needed it.
Finally we accomplished our own cold storage, a 40ft reefer container that we hooked up in a rental car facility off of the Cocorite Highway. Not the prettiest of locations, but it gave our customers an opportunity to place their order and stop in to pick it up.  It also gave us a chance to buy in bulk and save money. We love to do this because it allows us to pass those savings along to our customers. Also, we realized that most customers preferred picking up their orders and stopping in to chat, which we also liked. Speaking with customers picking up as helped us learn about many new items that we weren't carrying.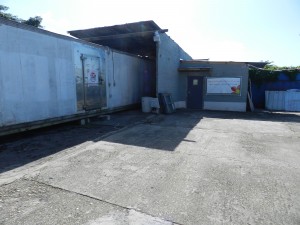 Unfortunately, just as with the chest freezer in the carport, our spot in Econo Car became very difficult. People would hear that there was a place in Econo-Car with great deals on meats and they would show up only to find a brick room with a guy on a laptop! We had no way to show them the meats without running back and forth in/out . All of our meats are still sold online and we weren't set up for brick/mortar retail. We still did not have a place where customers could 'pop-in' and pick something up for dinner or swing in for some steaks for a last minute lime. Ordering from us took some time and visiting the website. This greatly limited the type of items we could carry AND it turned away too many customers. Plus, there was an iquana that lived behind our office that would scratch on the roof all….day….long. We had to go!
It's really funny how everything seems to happen for a reason. A few months ago we received a call from friends of ours that own/operate a store in Diego Martin. They explained how they were becoming more occupied with their own individual companies and that their store could really benefit from new ownership and having Bloom's items. We jumped at the opportunity! The details and sale have been finalized so…….
We are very happy to announce that starting Thursday, September 13th, Blooms Imports will open its very first and very own retail store! Our new store is located on the Diego Martin Main Road just past Hi-Lo and the Big Tree, next store to FCB bank. Most may know it as Caribbean Catch. It's a great location for most people in the west and easily accessible for those coming from out of town. There is plenty of parking, which we are big on!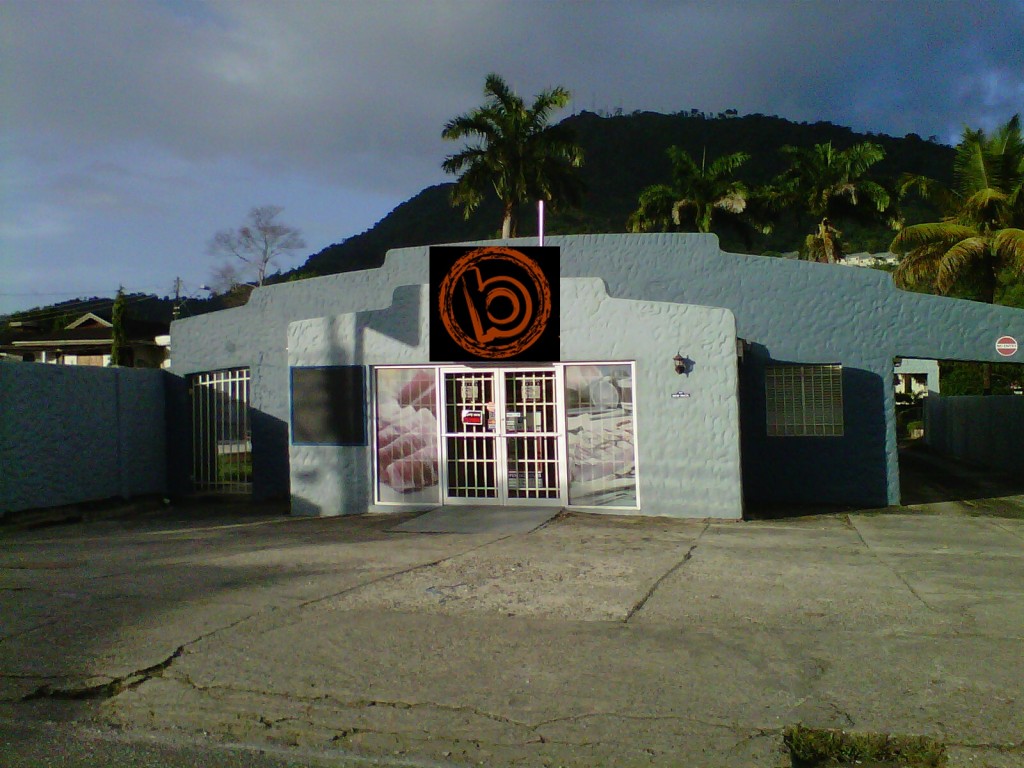 Obviously, this will change a lot of things about the way we do business. No longer will you have to go online to submit your order. You can just stop in and see all of our items. They will be displayed in beautiful chest and display freezers. We are filling them up as we speak. We understand it's hard to select meat based on a picture or description on a website. It's a challenge we've been facing for years now and it takes a lot of effort/time. So, now just come in and see the cuts first hand. If you like it than you can buy it immediately. 'A reeeeeaal proper store'.
We will also be able to carry a lot of items we never could carry. There are a lot of great products available to us, but we've never been able to facilitate selling them online. Now we can. So, the range and selection at Blooms is really going to expand. Our first project is what we like to call a 'Local Shelf', items that are created by local artisans/chefs/foodies that we will provide a sales platform to. So, keep an eye out for that. (If you have an item you think might work, please contact Dominic : dominicfabres@bloomsimports.com)
It's important that we address a few questions:
Will you still operate BloomsImports.com?
The answer is 'yes'. The website will still be updated daily with the items that we have in stock and even specials that we won't have in the store. You will be able to check and see if we have an item in stock before you stop by. As an FYI, we will have a lot of items that will be fresh specials, deals or not regularly carried, so you have to stop in for those.
Will you still deliver?
The answer is 'yes'. We know most of our customers live outside of the West, and we want to make sure you can convienently access our items, so we will still deliver (for FREE) within Port of Spain. This store should help us save some time with pre-sorting all orders and we are hoping to use that time to pursue outside of POS deliveries soon.
Can we still order and pick-up?
The answer is 'yes'. You can most certainly order online and ask for pick-up. We will prepare your order, send you a total and when you arrive it will be ready and waiting. We also have a pick-up window at this store, so you may (in the future) not even have to get out of your car.
Will you still have a spot at Econo-Car?
The answer is 'no'. We will not be operating out of Econo-Car for pick-ups effective September 10th.
Will you carry the same items?
The answer is 'yes'. We will carry our same items, plus a lot more. This was a fish store and from the looks of it, there are a lot of different fish options that we never even thought of carrying. We will be carrying a lot of those items as well, so our retail and wholesale seafood department will be huge. As soon as we get done googling what the heck a 'bangamary' is. 🙂
But wait, with a store and high overhead, won't your prices go up?
The answer is 'no'. This was a major concern from the beginning of Blooms. We operate with such low overhead that it's hard for many people to compete on price with quality meats/ foods. We stayed away from a store for fear of having to increase our prices to pay for our rent. But, what we failed to realize at that point was how much 'VOLUME' played a part in the way we source meats. The more we are able to buy, the better pricing we receive and the better prices we pass along to our customers.  This was evident with just the increase in customers that we saw from offering pick-ups. So, as it turns out, because more people will now be able to shop with us, we will can buy more goods and that will allow us to negotiate even better pricing with our suppliers. It's really a win-win.
So please, all of those friends that you told about Blooms that said they didn't have the time to go online to order their meats, send them an email and tell them they can now pass in whenever they want!
What hours will you be open?
The answer is 'we don't know yet'. We haven't yet decided that. We will definitely be here Mon – Sat, but we will work on the hours and let everyone know.
Can I get some items before you open?
The answer is 'no'. We have to move everything here, so that is going to take until most likely Wednesday evening. So please, feel free to place your order and we will get it ready for you to pick-up/deliver on Thursday. But for the sake of both the new store and our level of customer service, we have to take the next 2 days off. Thursday, though. Please eat veggies until then.
Will there be a Grand Opening?
Unfortunately, the answer is 'not yet'. Because we are so nervous about having everything ready for Thursday and getting all of our stock here, that we don't want to disappoint. We will probably all be cracking a Carlsberg Saturday evening, so you are welcome to stop by.
Thanks to everyone for all of your support throughout the years.  As I mentioned, it wasn't necessarily an easy journey to get to where we have reached, but it was made absolutely possible by our customers. As hard as it was to drive back/forth to a public cold storage for hours for 1 order, it was much harder for customers to put their trust in buying meat from a website. Or much harder for customers to pull into a junkyard to pick-up an order from an odd old man named Raul or a fast-talking yankee-boy. So, our most heartfelt thank you to everyone who has been there for us over the years and helped have helped us grow our business. Friends, family and customers….thank you! We are extremely excited about this new opportunity and we hope you will come check us out.
The Guys at Blooms