The difference between large and jumbo shrimp depends entirely on where you buy them. The terms describing the size of shrimp like "small", "medium", "large" and "jumbo" are not regulated, and can vary. Especially when buying shrimp on the side of the road in Trinidad. The way to truly know the size of shrimp you are buying is by the number–called "count"–with which they are labeled.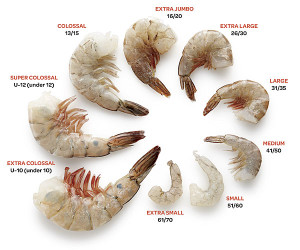 The count gives you the number of shrimp you can expect to get in one pound. The fewer shrimp per pound, the larger and more expensive they are. If you only have 10 or 15 shrimp that make up a pound, those shrimp will need to be larger. Fewer shrimp in the pound, but they are larger.
Some of the standard sizes you'll find are:
61-70, 51-60 Really small shrimp, often used for shrimp salad. Often labeled Tiny, Extra Small and Small. We sell these at shrimp pieces and they can be viewed here.
41-50 –  Labeled medium or medium large. I'd use these in pasta or mixed seafood dishes. Our 41/50 shrimp is commonly used by Roti Shops to make their Shrimp Curry. The size is bite sized and larger shrimp are not necessary. You can purchase these shrimp de-veined and cleaned by clicking here.
31-40 These are readily available, often labeled large, and my go-to size when budget is a consideration. Click here for more info.
21-25, 16-20 Often labeled jumbo, these are a great choice when shrimp, prepared with few other ingredients, are the main course. When serving grilled shrimp or simple sautéed shrimp for dinner, each diner might get 4-6 of these. This is our most commonly sold sized of Shrimp here at Blooms. You can purchase these by clicking here for 16/20 and here for 21/25.
10-15, usually 10 These are a treat; an indulgence as expensive as they are impressive looking. They may be referred to as colossal. You can purchase these shrimp here.