One of our very good customers has been making these cutting boards for friends/family for years. This is a locally made product that we are happy to offer to our customers. These cutting boards make great gifts. They are something your loved one will have for years and years to come.
Why End Grain Cutting Boards ?
The cutting boards are made from a high quality hardwood (purpleheart) utilizing food
grade glue (titebond 3)
Apart from looking very cool there are other benefits to using an end
grain cutting board:
– The wood fibers are aligned vertically so any unsightly
slash/scratch marks are much reduced as surface self heals
– Knives stay sharp longer as they go between fibers as opposed to
cutting fibers repeatedly
– Those who use very sharp knives for food preparation will get a much
nicer feel compared to say hard bamboo board or a plastic board.
– Properly cared for it should last a very long time.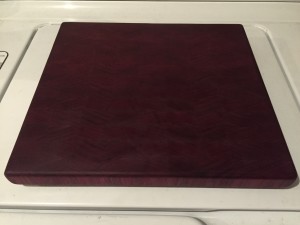 Cutting Board Care:
– DO NOT soak board in water for any length of time or place in a dishwasher
– Wash with mild detergent and rinse soon after
– Wipe any excess water and stand on edge to drain off
– Wipe/oil with a food grade light mineral oil every month to keep
surface from drying out and prevent cracking
– Do not use vegetable or any cooking oil as it will go rancid and smell off.
– Cutting boards are meant for cutting and NOT chopping, eg chopping
mango, meat etc.
This is a local product of T&T made by a skilled wood worker. Engraving is also available to make this a gift someone will keep for a life-time.
Each board is 12″ inch x 13.5″ inch with a 1.25″ thickness.
$650TT via special order only.
Interested in ordering a end-grain cutting board?